10/18/2013
Tomorrow at 2:30pm at Osher Salon of the San Francisco Conservatory, the professor Mack McCray presents "The Unbroken Line: From the beginner to the mature pianist," featuring performances by Pre-College, Conservatory and professional pianists. The program will offer thoughts and insights for parents, students and teachers of younger students about what to look for, how to be of help and how to understand and evaluate what's going on in lessons and practice.  I will perform Liszt's Hungarian Rhapsody No.9 "Carnival de Pesth."
————————–
10/17/2013
It was such a great pleasure performing Tchaikovsky's Piano Trio "In Memory of a Great Artist" last Sunday at the San Francisco Symphony's Chamber Music Concert. Thank all of you who attended.
This trio by Tchaikovsky was dedicated to his close friend and mentor Nikolai Rubinstein, and is a monumental composition expressing a full spectrum of emotions and nostalgic memories of his beloved lost friend, Nikolai. Moreover, I felt so fortunate to have the opportunity to perform it with wonderful musicians like Yukiko Kurakata and Amos Yang of the San Francisco Symphony. This was truly a concert that I will never forget.
——————-
9/25/2013
I hope this has been a wonderful year for all of you!
I will perform at San Francisco Symphony's chamber music series at the Davies Symphony Hall on October 13 at 2pm. I am thrilled to be performing the great Piano Trio by Tchaikovsky with violinist Yukiko Kurakata and cellist Amos Yang. For those of you in the area, I would love it if you could come!
I cannot believe how fast time goes. 2013 has just several months left.
It has been such an adventurous and special year for me – In February, I played my debut concert with the San Francisco Symphony's Chamber Music Series, and later in the spring, I toured Japan and Taiwan with the legendary cellist Christine Walevska.
I am grateful to be able to perform for new audiences in various cities that I have never seen before. It is a source of tremendous inspiration for me.
——————————
2/7/2013
Last Sunday, I performed the Brahms Piano Quartet No.3 in c minor with violinist Sarn Oliver, violist Matthew Young, and cellist Sébastien Gingras at Davies Symphony Hall.
It was an amazing journey to work with these accomplished artists of the SF Symphony and the intensity of the Brahms left me breathless and excited, as it did to my fellow performers. This season my concert programs feature many great chamber music works of Brahms, nonetheless, his piano quartet No.3 is perhaps the magnum opus of the fiery young Brahms.
Here is a favorable review from the San Francisco Examiner: "SFS chamber musicians offer two major classics and a recent curiosity"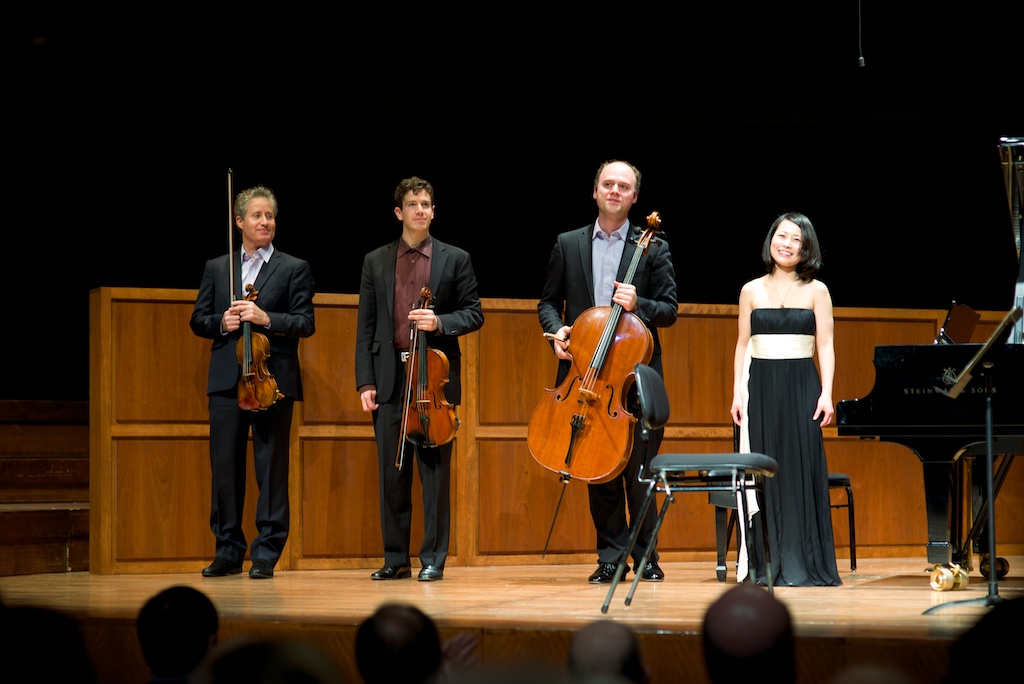 from left to right,  violinist Sarn Oliver, violist Matthew Young, and cellist Sébastien Gingras
___________________________________________
NEWS 
February 3, 2013: SF Examiner: SFS chamber musicians offer two major classics and a recent curiosity
March 18, 2012: SF Examiner: E-view about the 3/11 Tears of the Earth memorial
March 10, 2012: Tears of the Earth on KTSF26: March 10th, Saturday at 6am
March 9, 2012:  Tears of the Earth will be introduced in KTSF26 and KQED
February 18,2012:  Metropolis Ensemble: Building Bridges - Ryan Francis's Tri Cantae world premiere in Japan
January 15, 2012: Classical Sonoma: Barantschik and Fukuhara in Glowing Four Sonata Newman Recital