12/14/2014
After an intense but wonderful week in Ecuador, I flew to Japan, and visited Wakayama and Tokyo. I had a great time performing solo recitals to celebrate the 30th Anniversary of the Hashimoto International Friendship Foundation and the Hashimoto branch of UNESCO, and the 140th Anniversary of Ginza Jujiya.
I was honored to have Mr. Mikio Ozawa, the younger brother of Maestro Seiji Ozawa, as a special guest at the concert in Tokyo's Ginza Jujiya Hall. Mr. Mikio Ozawa's warm presence on stage immediately brought the audience closer to us. We enjoyed his interesting and fun anecdotes in between pieces. Ginza Jujiya is one of the first music shops to begin importing Western Instruments into Japan during the Meiji era.
Hashimoto city is located at the base of Mount Koya, which is the home of the most sacred site in Shingon Buddhism. I was enchanted by the serene beauty of "Ko-Yo" (color of changing leaves) in Wakayama, particularly after experiencing the dramatic South American landscape.
I also participated in a CHANEL Pygmalion Days chamber music concert led by Maestro Heiichiro Ohyama. It has been a very exciting month for me!
11/24/2014
I was in Ecuador earlier this month with cellist Christine Walevska.
Ecuador is one of the few countries where Christine has not
concertized yet among all South American countries – the other being
Bolivia. For me, it was the first time to be in South America.
Christine and I performed a concert for the benefit of the country's
sick and poor children. The concert was held at the oldest colonial
church in the South America, and at the Museo Guayasamin.
Surrounded by the Andes mountains, Quito is 9,000 feet above sea level.
The dynamic cloud that touches the mountains, the thunder storm every
afternoon around 3PM, the crazy traffic of the narrow street in the
old town, colorfully dressed Indian woman selling goods on the street,
exotic fruits and birds in the Rainforest—everything I saw was new
to me and made a big impact.
——————–
9/25/2014
I had a wonderful week spending the last bit of summer in Taiwan with cellist Christine Walevska. It was our second tour in Taiwan. We performed at the National Concert Hall in Taipei, Kaoshiung Music Hall, and also the Tainan University of Technology.
Taiwan is such a beautiful country. Meeting wonderful people, seeing their culture left me in awe with many beautiful memories.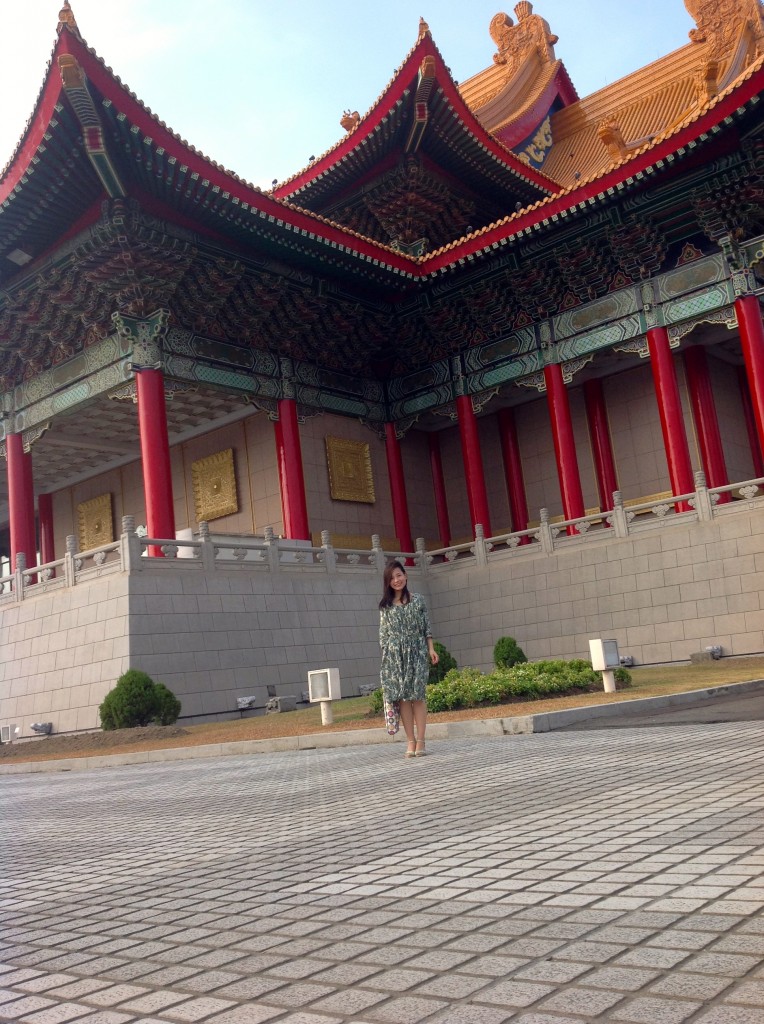 5/8/2014 - "L'enfant de la musique" on NAXOS Music Library
I am happy that my old solo album from PLATZ label Japan "L'enfant de la musique" is now available on Naxos Music Library.
This is a live recording of my debut recital at Asahi-Hamarikyu Hall in Tokyo when I was 14 years old. The program includes Bach's Partita No.1, Mozart's Sonata in F major, Chopin's Mazurkas and Ballade No.3, Schumann's Papillons, Liszt's Transcendental Études No.10 and etc.
This album is the crystallization of the earlier years of my life and adventurous musical journey, and it has a special place in my heart. I am thrilled that it is now available for streaming anywhere in the world.
4/29/2014
I missed the opportunity to see the Sakura blossoms in Japan this year, but this month has brought so many blessings to me with the chamber music and concerto performances. Thank you so much for joining me at the concerts in the Bay Area.
This weekend, I performed Rachmaninoff's Second Piano Concerto with the Master Sinfonia Chamber Orchestra in Portola Valley and Los Altos. It was my second time performing with the MSCO, and I was honored to be part of the last program of their season. I love performing with the orchestra, and the morning after the concert I woke up with the music still ringing in my ears. I am truly thankful to the Maestro David Ramadanoff and the MSCO musicians for this great experience.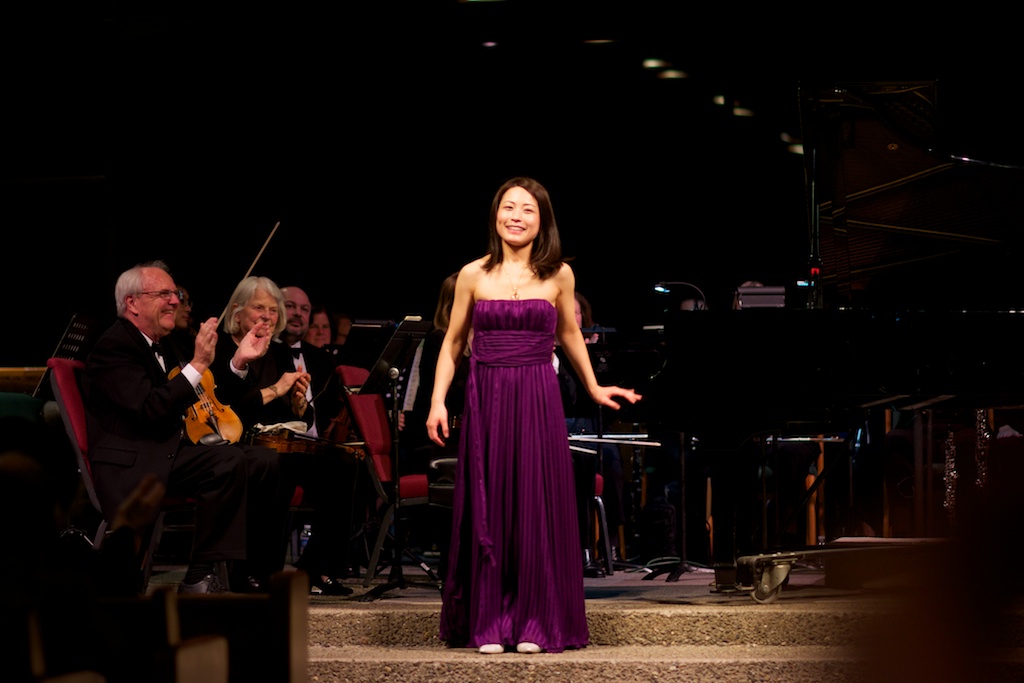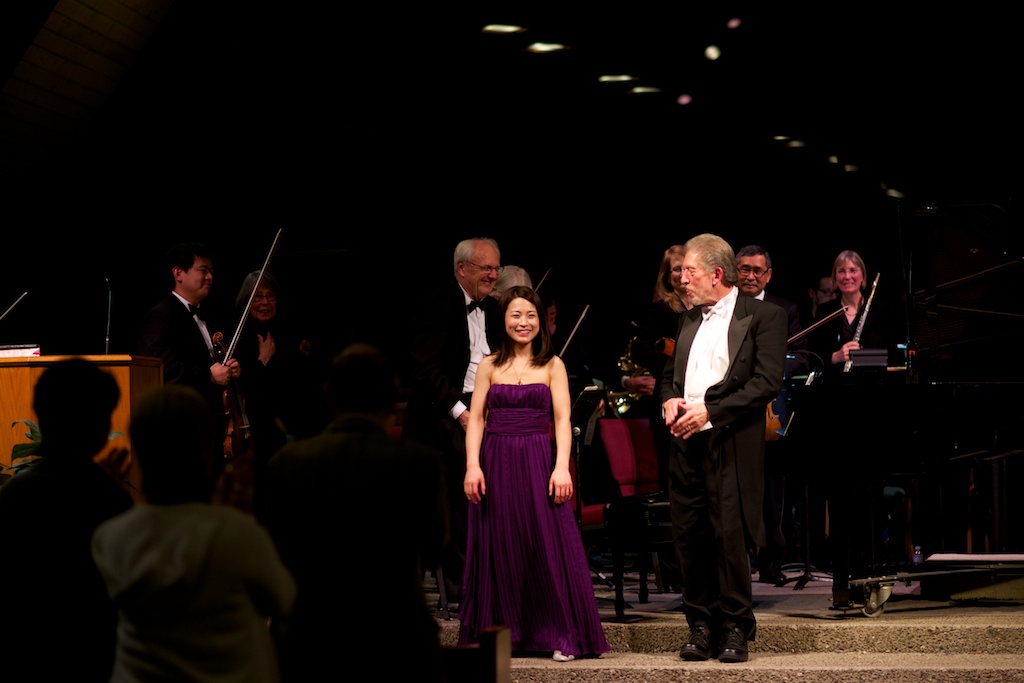 —————–
4/8/2014
I hope you are enjoying the spring!
I am performing Schumann's Piano Trio No.3, Op. 110 with violinist Yuna Lee and cellist Sébastien Gingras of the San Francisco Symphony at the The Chancellor's Concert Series at UCSF on Thursday, April 10th. This program will be repeated on Sunday, April 20th, at the Chamber Music Sundaes at Crowden School in Berkeley.
The trio No.3 is the last of the three trios Schumann wrote. It was composed in 1851, when Schumann was 41 years old. A hauntingly beautiful and introverted composition, it inspires me to learn more about Schumann's late works and his life during those difficult and unhappy years.
The Chancellor's Concert Series will be streamed live. So for those of you who cannot attend the concert in person, please check the UCSF website here!
———————
10/18/2013
Tomorrow at 2:30pm at Osher Salon of the San Francisco Conservatory, the professor Mack McCray presents "The Unbroken Line: From the beginner to the mature pianist," featuring performances by Pre-College, Conservatory and professional pianists. The program will offer thoughts and insights for parents, students and teachers of younger students about what to look for, how to be of help and how to understand and evaluate what's going on in lessons and practice.  I will perform Liszt's Hungarian Rhapsody No.9 "Carnival de Pesth."
———————
10/17/2013
It was such a great pleasure performing Tchaikovsky's Piano Trio "In Memory of a Great Artist" last Sunday at the San Francisco Symphony's Chamber Music Concert. Thank all of you who attended.
This trio by Tchaikovsky was dedicated to his close friend and mentor Nikolai Rubinstein, and is a monumental composition expressing a full spectrum of emotions and nostalgic memories of his beloved lost friend, Nikolai. Moreover, I felt so fortunate to have the opportunity to perform it with wonderful musicians like Yukiko Kurakata and Amos Yang of the San Francisco Symphony. This was truly a concert that I will never forget.
——————-
9/25/2013
I hope this has been a wonderful year for all of you!
I will perform at San Francisco Symphony's chamber music series at the Davies Symphony Hall on October 13 at 2pm. I am thrilled to be performing the great Piano Trio by Tchaikovsky with violinist Yukiko Kurakata and cellist Amos Yang. For those of you in the area, I would love it if you could come!
I cannot believe how fast time goes. 2013 has just several months left.
It has been such an adventurous and special year for me – In February, I played my debut concert with the San Francisco Symphony's Chamber Music Series, and later in the spring, I toured Japan and Taiwan with the legendary cellist Christine Walevska.
I am grateful to be able to perform for new audiences in various cities that I have never seen before. It is a source of tremendous inspiration for me.
——————————
2/7/2013
Last Sunday, I performed the Brahms Piano Quartet No.3 in c minor with violinist Sarn Oliver, violist Matthew Young, and cellist Sébastien Gingras at Davies Symphony Hall.
It was an amazing journey to work with these accomplished artists of the SF Symphony and the intensity of the Brahms left me breathless and excited, as it did to my fellow performers. This season my concert programs feature many great chamber music works of Brahms, nonetheless, his piano quartet No.3 is perhaps the magnum opus of the fiery young Brahms.
Here is a favorable review from the San Francisco Examiner: "SFS chamber musicians offer two major classics and a recent curiosity"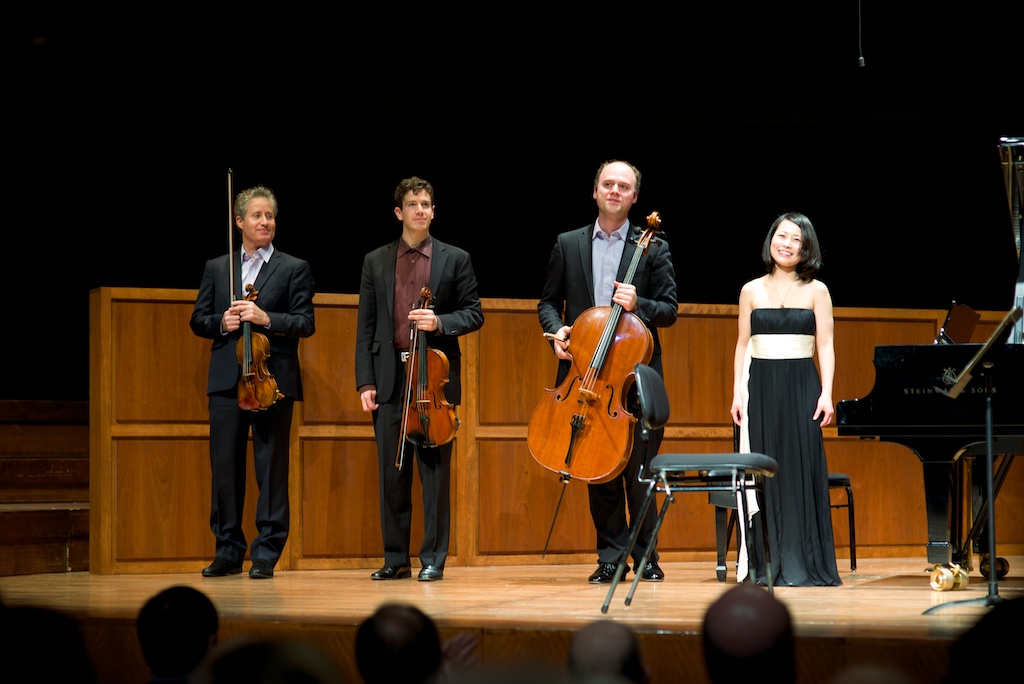 from left to right,  violinist Sarn Oliver, violist Matthew Young, and cellist Sébastien Gingras
___________________________________________
NEWS 
February 3, 2013: SF Examiner: SFS chamber musicians offer two major classics and a recent curiosity
March 18, 2012: SF Examiner: E-view about the 3/11 Tears of the Earth memorial
March 10, 2012: Tears of the Earth on KTSF26: March 10th, Saturday at 6am
March 9, 2012:  Tears of the Earth will be introduced in KTSF26 and KQED
February 18,2012:  Metropolis Ensemble: Building Bridges – Ryan Francis's Tri Cantae world premiere in Japan
January 15, 2012: Classical Sonoma: Barantschik and Fukuhara in Glowing Four Sonata Newman Recital